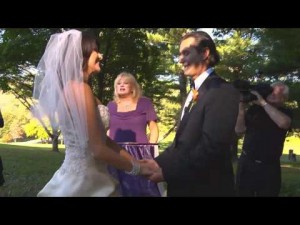 Looking for a top rated wedding videography company in the state of Massachusetts?
Janis Productions is there to provide Massachusetts brides and grooms with only the very best in wedding videography services at a reasonable price!
Contact us today about your upcoming Massachusetts wedding! Contact
In its history that spans more than 25 years, Janis Productions has produced more than 5,000 event videos that possess all the above-stated qualities (and beyond). The company's wedding videography and bar/bat mitzvah videography services are unmatchable, and are thus the most preferred in Massachusetts. Its team of highly professional videographers and staff have an unwavering dedication to quality and excellent customer service.
Janis Productions continues to find innovative solutions that can challenge the industry and lead the way towards re-shaping how clients view event videography and all types associated to it (such as wedding videography and bar/bat mitzvah videography).
In the state of massachusetts, Janis Productions provides wedding video services to many areas, including:
Janis Productions understands that top-notch wedding, bar/bat mitzvah, and other event videos must possess the following qualities and requirements.
• advanced and professional cinematic styles
• professionally edited, highlighting the happiest and most glorious memories
• includes all parts of the event, from preparation to finish
• with crystal clear video clarity
• broadcast-quality and sharpness
What do clients love about Janis Productions?
• Fresh, New, and Unique Event Production Ideas
Unlike most companies offering wedding videography services that performs a robotic task (i.e., filming the event from start to finish), Janis Productions makes suggestions and gives professional tips to make sure that every part of the wedding is truly memorable. Its end-to-end assistance approach helps clients in every part of the event, and every step of the wedding videography process.
• Professional Video Editing
Janis Productions has a team of highly trained editors who are equipped with state-of-the-art editing tools and facilities to ensure that all footages are put together to form a highly creative and broadcast-quality video. Background noise is eliminated to ensure that the event is as solemn as it can be.
• Blu-Ray and DVD Authoring
With all data stored on Blu-Ray and DVD disks, the resulting video is expected to have higher resolution and quality.
And here are a couple more wedding video archives dedicated to brides in the state of Massachusetts.
The state of Massachusetts takes up much of the New England area and is the state that comes to mind for many people. Whether you like the city life of Boston MA or beach areas of Cape Cod, Massachusetts has many areas for amazing wedding settings and backdrops.
So, if you're a Massachusetts bride that is in need of the absolute best in wedding videography, make sure Janis Productions is at the top of your list!