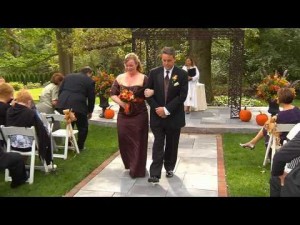 Planning to the tie the knot in Lancaster PA and looking for a wedding videographer to match? 
Janis Productions is highly recommended by brides and grooms of Lancaster PA and neighboring cities because of our unmatched video coverage services.
The company has created over 5000 high quality and artistic wedding videos for clients of various age, cultural backgrounds and preferences.
We provide innovative ways to cover all types of events, from weddings, bar/bat mitzvah, company parties, baby showers to anniversaries and balls.
We make sure that every wedding video meets a certain set of standards
• has high resolution videos edited professionally
•shows a complete timeline of events, highlighting the most important moments
•embodies a sense of uniqueness representing the client's personality
•DVD or Blue ray disk copies are sharp, noise-free and of high broadcast quality
And to achieve our goal of creating one-of-a-kind videos, Janis Productions hires only professionals and experienced staff. We then complement their talent with only the latest cameras, editing softwares and equipment to enhance the quality of their output. In order to continue creating masterpieces, our videographers and editors are trained to:
1. Anticipate and follow the action.
Our videographers know that some things can only happen once so they are alert and always prepared for whatever is coming. The team also attends your rehearsals and studies the flow of your program.
2. Come up with fresh innovative ideas
Our videographers and editors are not just people in front of cameras or computers. They are artists, passionate about creating new things each time.
3. Finish the job on time.
Our team has excellent time management skills and can work well even under pressure. We always meet our deadlines because we know how married couples are excited to see their wedding videos afterwards. We always deliver it on the date and time that was promised.
Feel free to contact us at Janis Productions to discuss an upcoming event or wedding
Lancaster, PA has long been a popular vacation destination where visitors can enjoy a slower pace of life. It is a home to Amish communities. Lancaster has beautiful sceneries of serene farmlands, old schoolhouses and wooden bridges. And for some couples, it is this sweet serenity and simplicity that makes Lancaster an inviting place to get married in.
Some of the wedding sites we recommend in Lancaster PA area:
Riverdale Manor – for that historic feel
Doubletree Resort at Willow Valley – with a picturesque Victorian Chapel
Legacy Ballroom – classy and intimate style
Cork Factory Hotel –  with brick walls, exposed wood rafters, and large brick fireplace
The Old Greenfield Inn – great food and great atmosphere
Couple more archived wedding videos for brides, grooms and their families in Lancaster PA…
And so…if you're looking to hire only the best in wedding videography for your upcoming Lancaster PA wedding, then you definitely need to consider Janis Productions for that special day.