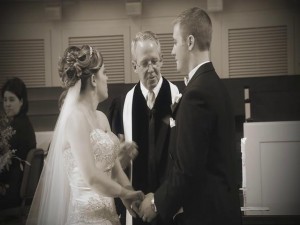 Will your family be celebrating the most awaited wedding ceremony in Erie PA?
Choosing Janis Productions, a company whose wedding videography services remain unmatched, should be your best choice.
Janis Productions is a name attached to excellent videography, originality, and first-rate costumer support- making it the most preferred not only in Erie PA but also across the country.
Janis Productions in general can cater to different kinds of occasions, not just weddings but all types of events like bar mitzvahs, company parties, proms and other special events. The versatility of Janis Productions won the hearts of loyal clients and each time, our customers are assured of only the best outcomes for their wedding video.
In the company's 28 fruitful years, we have been covering events for businesses to simple families, partnering with famous brands in the radio and television, thereby gaining valuable experiences and knowledge that we now carefully apply to each project.
Our wedding videos are always fun to watch. It is never dull or boring because we use a cinematic style to filming and editing. You will certainly be at awe of how our skillful and talented team of videographers, editors and directors put bits of footage together to make a remarkable film that captures all the joy and emotions of your cherished moments. We have state-of-the-art facilities and advanced editing tools to do exactly that.