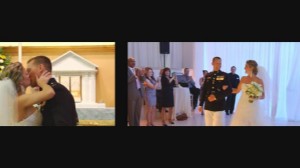 Looking for leading videographers to match your perfect Bethlehem PA wedding experience?
Look no further for Janis Productions is exactly what you need.
Janis Productions does not simply record the events of your special moments, but preserves all the happiness and colorful emotions that comes with it.
Every smile, every whisper from a loved one, or even funny fidgets of your beloved mother and all those small details that hold a big place in your heart, we capture them all in a beautiful memento.
Janis Productions delivers nothing but the best videos because of a legacy of perfection that it upholds since its founding in 1983. It has been serving clients from Bethlehem PA and surrounding regions for 3 decades now that is why the company has gained a lot of useful experiences in event videography (wedding videography and bar/bat mitzvah videography) and video production in general.
Janis consistently receives winning raves from its clients commenting on our professionalism, creativity, friendliness, patience, and attention to detail. Let us share with you exactly the edge that we bring:
 Team of highly competent and experienced Videographers, Directors, Cinematographers, and Editors working together to concretize your desired outcome
Collection of high resolution cameras and up to date videography equipment and facilities
Creative and Advanced Cinematic Techniques using only the latest editing tools and technology
Excellent client relationships, costumer support system and transparent fee transactions