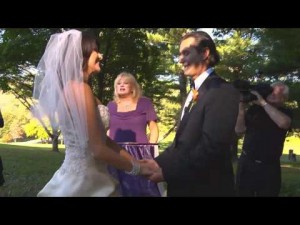 Would you like to keep the best memories of your cherished Allentown PA wedding?
Let Janis Productions capture those moments with you.
For 28 years now, Janis production has provided its clients with nothing but the best experience when it comes to event videography. Most especially, it boasts of a collection of well applauded wedding and bar/bat mitzvah videos all sculptured and built with excellence and creativity which has gained the trust and confidence of people in Pennsylvania and the rest of the country.
Each Allentown PA newlywed is assured that only the most experienced and skillful group of industry professionals are working on their events. Its team of technical experts and artists work hand in hand to make sure that every single detail of your special moments are captured and showcased in ways that you will be happy to remember. These people have gained years of experience in the video production business, whose learning of the latest technology in film editing never stops in order to continue reinventing unique concepts best suited for your needs.
Individuals and businesses alike put Janis Productions at the top of their list for the following services:
Wedding Videography
Bar/Bat Mitzvah Videography
Corporate Video Production
Event Videography
Music Video Production
Blu Ray and HD DVD Authoring
Situated along the Lehigh River, the city of Allentown offers a wide range of cultural attractions set to awe and amaze visitors and travelers. It is a home for the arts with its fine collection of museums, and a cradle to promising artists, ranging from dance companies, theater groups to orchestras. And because of this historic and artistic feel, a lot of couples head to Allentown PA just to spend the best days of their lives.