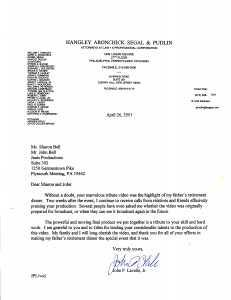 Here are a few Janis Productions testimonials from satisfied clients:
"Words cannot describe how Michael and I felt after watching our wedding video for the first time. We both had to hold back tears as we saw the whole beautiful day unfold again before us. It seems as if we were watching a Hollywood movie, and we were the stars! We could not have dreamed of having that day captured so well." -Alyson and Michael Donahue
"Your video biography of our daughter Hillary was exquisitely made. Thank you so much for giving our family a memory to love and cherish for a lifetime." -Dr. Steven and Pam Barrer Huntingdon Valley, PA
Hi Sharon,
Both the trailer and full video are amazing! John did a fabulous job capturing every detail. I finally got a chance to sit down today and watch the whole thing, and it absolutely blew me away. I thought I did a pretty good job of remembering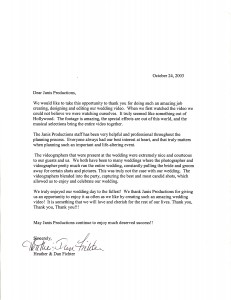 most of the night, but there were so many things that I forgot about when looking back at the video. Thanks for your excellent work!
Best,
Melissa and Colin   November 5th,2011  Wedding held at Four Seasons Philadelphia
"Janis Productions did an outstanding job creating a beautiful memory of our wedding. My wife and I are more than pleased. They were prompt, professional, understanding, the communication was excellent; all of the business pieces of the contract were fulfilled completely. When we received the product, WOW, we were so happy. I believed we each broke into tears more than once. Our feelings immediately after watching the video were, grateful, happy and excited. We are grateful that we chose Janis because of the quality of the editing, the way they caught every moment's action and reaction, and the sound quality was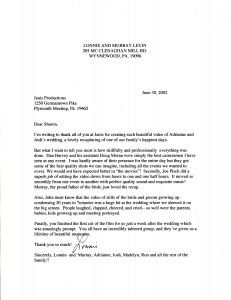 second to none. We are happy because we have a wonderful memory that we will never lose, it will never fade and we can relive that day forever. We are excited because we are able to share our video with our friends and family, our children and grandchildren. I can only imagine how sad it would be if we did not have this video created. What an awesome production, what an amazing way they retold the story of our day. The sound bites, slow motion, wow it was all worth it. I am getting chills just thinking about the scenes running through my head. Awesome, simply awesome!!! I would not change a thing if we did it all over again."
"Thanks Janis!"  Terry and Frank R……..10/15/11
Hi Sharon:
Just wanted to make sure John told you I called. We watched it two times in a row and it was fabulous. You captured everything from the wedding day and it looked beautiful.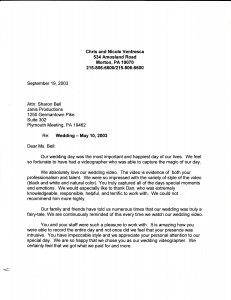 You guys did such an amazing job and i cannot wait until Nicole gets her copy to watch it as well. It is perfect and something we will treasure for years to come.
Rhonda

"Sharon and Janis Productions are absolutely amazing and well ahead of the times with their technology and creativity. We just watched our wedding video in June with a group of family & friends. Even 12 years later with all of the advancements in technology, our video is unbelievable. It was done in such a manner that makes you feel like you're watching a Hollywood romance movie. Even the guys enjoy watching it. Sharon and her Company's work was worth every penny and I hope to find an opportunity to use them again."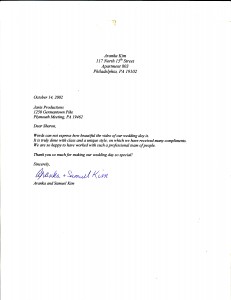 wedding YES!!! We LOVE it. Your team did an amazing job which I'm not surprised at all. You really have the best product and I am a raving fan! No one edits wedding videos like that! I'm going to show it to my parents tonight.
Dearest Sharon and John
OMG. Chuck and I can't stop talking about our awesome wedding celebration that you and John created for us. From the moment we got engaged on my birthday April 21st until our wedding day September 17 th at ACE conference center
From start to finish of our unbelievable video…. You folks are the BEST
You are so detail oriented … You put the sizzle and WOW in Our special day
You created a Royal wedding that no one there will ever forget.
The memories that our Video captured by your talented John Bell and your crew with their cameras.  Goes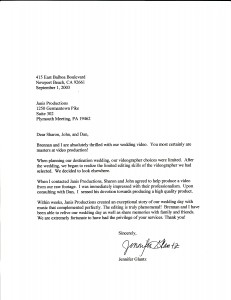 beyond words… The reveal that you said Trust me… What an unbelievable moment for chuck and I… The royal guards…my entrance with my second dress… You created a wedding event that we are so grateful that we have a video that will last a lifetime… For our children and us to watch and our grand children and grand doggies too… Thank you Sharon and John Bell for All the memories… Video should be the first on everyone.s list… All Our Love… Lynnie and Chuck Schleifer.   Xxxx
Lynnie Schleifer

6/3/2012
Hi Sharon, Thanks to you and your staff for the video memories of our daughters wedding. The crew were professional and non intrusive. The end result was amazing quality even with the high winds the sound was perfect. They captured the joy, the laughter, and the emotion of the day. I knew I made the right choice after our first conversation. How true it is that you will never have this group of people gather together again. How important it is for family to see people they love living life and happy. Since the wedding the couple have lost a dear friend and the brother of the best man. There is a perfect capture of him smiling and being embraced by friends.on the video. Clips from the video were played at his memorial service. Life is fragil, moments can be lost forever. If anyone is wondering why video is important, answer because you can't stop time but video lets you replay it. Best Regards, Lillian Hamill